Basketball is more popular than ever in Canada
The Greater Toronto Area is the epicentre of Canadian basketball and the popularity of the sport is not just growing among Canadian youth, it's growing globally. The success of the Toronto Raptors has captured the imagination of youth, and more Canadians than ever are in the NBA.
Greater Toronto welcomes more immigrants than anywhere else in Canada and among these newcomers, basketball is the preferred sport.  According to a recent landmark study on the impact of newcomers to Canada:
BASKETBALL IS THE TOP SPORT, NBA TOP PRO LEAGUE
70% of newcomers consider themselves sports fans (similar to 68% of the general Canadian population), and 81% said they watched at least some of the last two Olympics in Rio and Sochi suggesting good level of engagement with sports.
When asked to indicate their personal favourite sports, basketball comes out on top (29%), followed closely by soccer (28%) and hockey in the number three spot with 26% as one of their favourites. Cricket, swimming, football, tennis, gymnastics, badminton, and figure skating round out newcomers' top 10 personal favourites.
Newcomers were asked about their favourite sports and athletes – amateur or professional. Three of the Top 5 favourite athletes are basketball players and the other two are soccer stars.
When it comes to watching on TV or following pro leagues on digital or social media platforms, NBA was ranked the #1 overall among newcomers.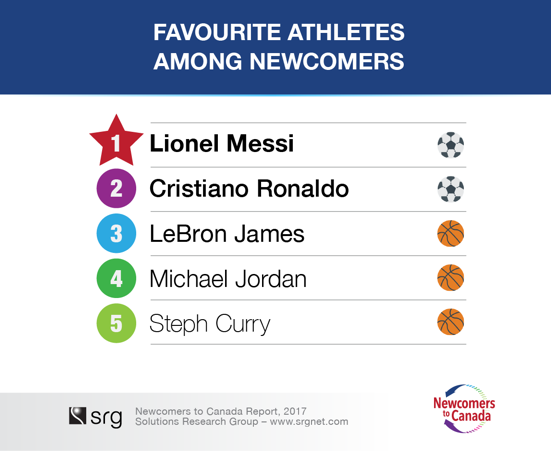 In the West GTA, the Burlington Basketball organization leads the way.
Burlington is consistently recognized as Canada's best mid-sized city, and youth sport is a vital part of the fabric of the community. Burlington Basketball stands out as the city's only organization that offers programming for every school aged child, from introductory training (SNYB) to house league recreational play to competitive "rep" programs.  In fact, nearly 70 teams of all types are organized and driven via this non-profit organization, with some 130 volunteer coaches!
Sport Promotes Healthy Children and Builds Strong Communities
At Burlington Basketball, we're proud of our success. We're part of a City that offers many options for youth sport that includes that includes soccer, hockey, volleyball….badminton – you name it! On this note, we have essential reading for any parent of a would be youth sport participant:
Whether you're new to Canada – or Burlington – you'll be amazed at the benefits that await your child by participating in  sports programs – competitive or not!
—————-
Interested in more "Basketball by the Numbers"? Check out this CBC report. We'd love to hear your comments and share with your friends!
Featured Image Source: https://twitter.com/canbball